This post was originally published as an assignment for INFO 287 Seminar in Information Science: The Hyperlinked Library at the School of Information at San José State University.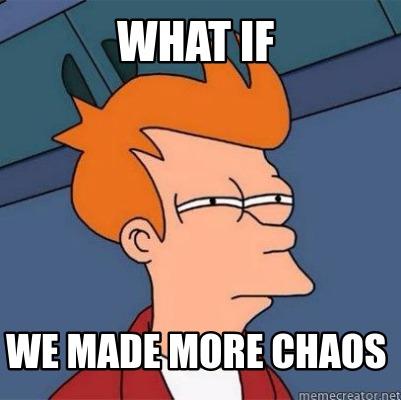 I started thinking about the Hyperlinked Library when Michael Stephens first mentioned it during a lecture in my INFO200 class. There were two things he said that piqued my interest. I can't remember the exact quote, but it was essentially referring to a point he makes in the Hyperlinked Library lecture and whitepaper, that:
The most powerful information services to data are probably in the palm of our hands.
People's information-seeking behaviors will travel the path of least resistance.
Current technologies allow us to simply ask the artificial intelligence that rests at the ready in our cell phones or smart speakers.
"Hey Siri, what is a Library?" Siri reads me the definition as written in Wikipedia's article about "Library".
"Hey, Google, what is the hyperlinked library?" This research question returns a series of links to Stephens' lectures, the SJSU course, video clips, Tame the Web, etc.
Now, what if libraries worked at inserting themselves right in these search results? This is where information-seeking is happening. Even inside the library! So libraries need to be there!
People are not searching for information in their library's catalog. The library website is not the destination for information seeking. This interface mainly serves as a resource for internal stakeholders. Old habits and resistance to change keep libraries thinking this is a valuable resource. It is not. I have not found the OPACs very user-friendly. They tend to return a cascade of confusing results. Libraries are everywhere, so if this is the case, let's put them front and center where people are looking for information.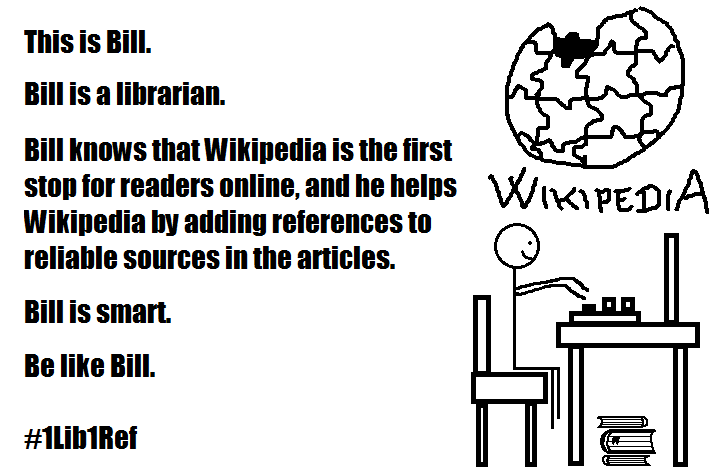 Wikipedia is one of the most visited sites in the world. But it is the only one that is entirely created by volunteers and managed by a non-profit. Fantastic! Richard Cooke of Wired Magazine, suggests that it is our global town square – is this a Hyperlinked Library? Its articles are often found in the top five results returned in a Google search. Libraries need to insert themselves into this place, where people are doing their information seeking. Projects such as the OCLC's Wikipedia + Libraries lay the foundation to build upon, teaching libraries how to contribute Wikipedia. The #1Lib1Ref campaign and other Wikipedian groups such as art+feminism, or Black Lunch Table collaborate with libraries and museums to organize around adding new articles that are inclusive of underrepresented people. It is amazing that we can connect with people, on a global scale and exchange information and ideas. The Wikimedia Foundation's framework is ripe for being a space for this to happen.
In a recent podcast, Zack McCune, the brand director for Wikimedia Foundation, mentioned that The WMF wants to develop methods for capturing people's oral histories and adding them as articles on Wikipedia. This would create an opportunity for people to be contributors to the project even if they don't have the skills or technologies on hand to edit Wikipedia articles. What an incredible opportunity this is for a Hyperlinked Library to facilitate something like this!
Wikimedia has already beat libraries to the punch, recently solidifying their symbiotic relationship with Big Tech. But what is Wikimedia? The information within is merely the result of a small community of volunteers who commit to curating articles, images, sounds, or digital assets that are machine-readable and highly searchable via the world wide web. To me, this sounds an awful lot like a library. So accessible and surprisingly accurate enough that Big Tech links this data to the search function of their artificial intelligence systems we all carry in the palm of our hands.
These are the type of ideas my mind runs with when I think of a Hyperlinked Library. Yet, I know first hand, there is an awful lot of institutional baggage weighing down the ability for something like this to take flight on a large scale. Several of the foundational readings make some poignant references to these internal barriers.
The worst-case scenario
The resistance to change
Locking things down
Analysis paralysis
Libraries are warehouses for books. This is a public perception, but I also have witnessed this being an internal one as well.
So much of the literature covered in our foundational readings and the Hyperlinked Library module describes a need to innovate, look forward, plan, be open to change, and meet people's needs. I find all of this very inspirational and motivating. Yet, I often feel like the internal barriers are insurmountable. I feel powerless in a sea of complacency.
"We can't hire a few creative and improvisational individuals and expect them to deliver new service models if the work culture is not ready for new service models. We can't expect entrepreneurialism to flourish in a tradition-obsessed environment. We can't just talk about change; it must be embedded in the actions of employees. Innovation is a team sport that has to be practiced regularly". (Mathews, 2012, p.3)
The Hyperlinked Library module includes some fantastic examples of what libraries can do if they are entrepreneurial enough to take the risk. A lot of them are public libraries. I wonder if public libraries are more responsive to the needs of their communities? Can an academic library be a Hyperlinked Library? There are an awful lot of institutional barriers in place. Tenure. Working semester to semester, faculty are unwilling to take on changes that can be resolved inside of an academic year. Let alone dig into work on a long-term plan. I hear "we'll do that next year" or "I don't have the bandwidth to do it now" or the dreaded "that's not my job".
I love the concept of this profession, helping people, connecting them with the information they need, connecting dots, wayfinding, introducing people to new ideas and technologies. Libraries are for people, not books! The Hyperlinked Library describes exactly why I wanted to work in libraries. It is exactly what motivated me to pursue an MLIS.
"If we can teach our students about these new things, but they enter a workplace culture that doesn't support transformation, their skills will go to waste. Thus, librarians should seek to encourage and facilitate learning of all kinds within our spaces" (Stephens, 2016, p.11)
This quote really resonated with me as an information science student. I am finding myself feeling cautious of what lies ahead. But, I also recognize my role in advocating for the changes I wish to see in LibraryLand. I am super pumped by the idea of working in the Hyperlinked Library. Where is it, and are they hiring??
References
Mathews, B. (2012). Think Like A Start Up
Stephens, M. (2016). The Heart of Librarianship: Attentive, Positive, and Purposeful Change
Featured image: The Untangling of Chaos